Youth Fellowship Program 2018-2019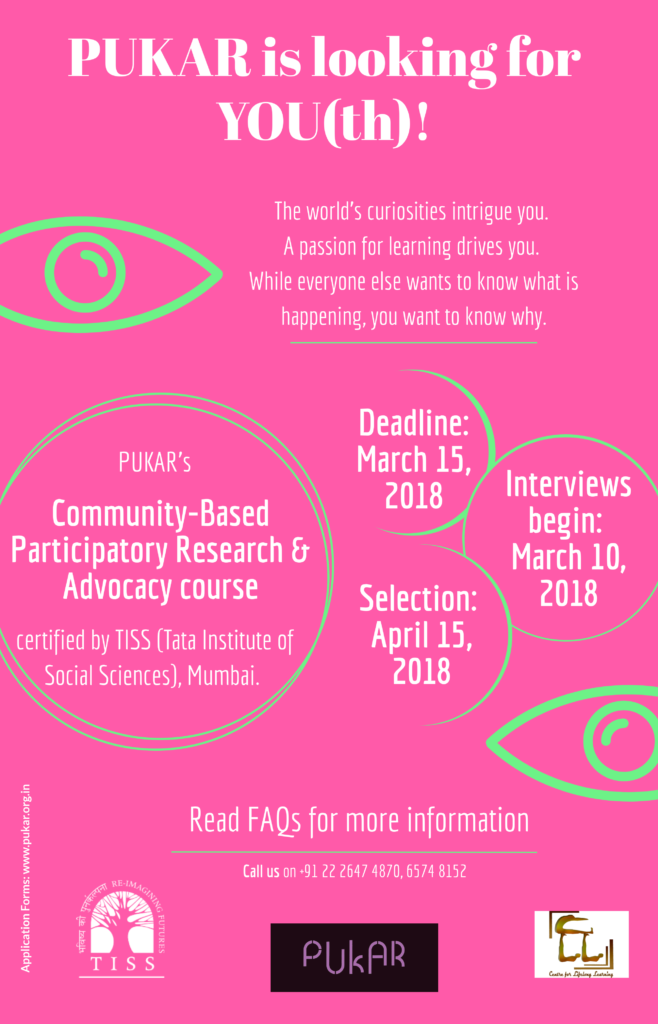 A course in Community Based Participatory Research and Advocacy accredited by Tata Institute of Social Sciences
PUKAR brings its Youth Fellowship program in a new avatar – Community Based Participatory Research and Advocacy – a course accredited by Tata Institute of Social Sciences! Read on for more details . . .
If you are passionate about learning and wish to explore opportunities outside of your studies and place, PUKAR invites you to join us in a year-long journey in understanding community based participatory action research (CBPAR). This fellowship program takes research to the communities and encourages youth to engage deeply with their everyday reality. Youth from all over Mumbai are invited to join us in this exciting process of understanding ourselves and our society from a researcher's lens.
If you are a CBO/NGO or a collective working with the youth, connect us to those who have a quest for knowledge and can form a group of 8-10 members.
* What is PUKAR's Youth Fellowship Program?
PUKAR's program engages young minds (18-35years) in understanding themselves, their communities and becoming youth leaders and change agents. The group researchers on a specific topic for a duration of 11 months and engages with PUKAR every Sunday through workshops, discussion forums and research training. They learn to interact with their friends, family and communities in new light and in this process make lots of new friends! The process encourages group work, builds leadership skills and provides fellows with a space to express themselves.
During the duration of the program PUKAR will provide necessary support to the candidates. At the end of the cycle, each participant who has successfully completed the course will receive a certificate.
* How is it done?
The course runs for duration of 12 months. In this duration participants attend 4 residential workshops and few workshops on Sundays of select months. Additionally, the fellows submit few assignments and collect data for their respective studies. Applications are invited from different groups, each comprising of 8-10 individuals who work
closely with facilitators and resource persons in learning and unlearning their research topic. Each group is free to choose a topic that touches them and is based on their everyday life! All workshops are conducted on Sundays and the process mandates 75% attendance. And the end of the process, the group takes their research back to the community. Selected groups will also receive Mentoring and Small research Fund.
* Fellow's take-away:
On successful completion of the course, each participant is awarded PUKAR fellowship certificate accredited by Tata Institute of Social Sciences. The group documents a research study which is authored by the group members themselves. The participants receive training in community based participatory action research and social
reality.
* Eligibility:
If you are 18 – 35 year old, have completed class 10th and have a quest for learning, form a group of 8-10 members and apply! Caste, language, community is not a criterion. Girls are encouraged to apply! PUKAR's sessions are conducted in Hindi.
* Watch Out:
Application Deadline: 15 March 2018
Interviews: 10th March 2018 (The interviews will be held alongside the application submission
process)
Results Announced: 15 April 2018
* For applications:
Download forms from PUKAR's website: http://youthfellowship.pukar.org.in/application/ or visit us here: 272, Municipal Tenements, Shivaji Nagar, BMC Colony, KherWadi Road, Bandra – East, Mumbai – 400 051.
For more details, call us PUKAR office at: +91 22 2647 4870, 6574 8152
Or
Call our Team to discuss your ideas:
Arvind: 09767456204,    Neetu: 08652757468,    Priyanka 08109114104,     Payal 07045818391,
Sunil: 09619766132.
BRBC- Individual Application form 2018-19
BRBC_Group_Application Form 2018-19